Podcast: Play in new window | Download
Subscribe: Apple Podcasts | Android | RSS
It's no secret that Twitter engagement has jumped from retweeting to favoriting — or what Twitter now calls "likes." Anyone can see that in their feed. But why? There are actually several strategies, and some silliness, behind how people are now using the "like" button, and we discover that the three Grow the Dream guys somewhat represent that diversity. Plus Facebook just keeps growing and growing and growing. How big can it go? How many people are on the planet? Plus the importance of creating relationships with influencers, using 301 redirects with the Yoast plug-in and using Schema.org markup.
Webcast this Friday, 11/13/2015: How to Use Google Search Console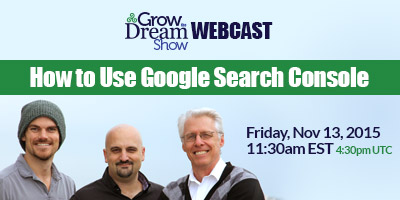 Formerly known as Webmaster Tools, Google Search Console is a very important dashboard which Google uses to communicate urgent warnings and other critical information about your website to you. In addition, there's a wide variety of useful info in there which you may not know about, as well as some ways you can provide Google some information that can have a big impact on your site's visibility.
This Friday, 11/13/2015, we'll walk you through how to use Google Search Console on our first-ever live webcast! Reserve your seat here for this live event. We'll use a webinar platform to facilitate screen sharing, live Q&A, and more. It all gets underway on Friday at 11:30am EST / 4:30pm UTC. Check that time in your time zone here.
Remember: you must RSVP to attend. If you can't join us, we'll make sure you get access to an on-demand replay afterward, but you must RSVP to be notified. RSVP now.
Show Notes