Podcast: Play in new window | Download
Subscribe: Apple Podcasts | Android | RSS
The volume of internet content is reaching staggering heights, and most of it is now being consumed on mobile devices — specifically smartphones. Brands have resorted to creating sticky, junk-food-style content in order to garner eyeballs and revenue. But there is a better way for brands trying to cut through the noise in this new era: finding & engaging with subcultures. We talk about what that means, along with this week's news and we tackle the question, "Do you need a mobile app for your business?"
News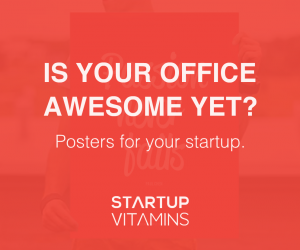 Our show today is brought to you in part by Startup Vitamins.
Check out all the awesome posters, mugs, shirts, hoodies, and other startup swag, and get $5 off your first purchase!
Click here to see all the Startup Vitamins goodies and claim this deal.
Show Notes
Josh found this Medium post from David Armano entitled, The Death of Content Marketing: Why Brands Must Become Cultural Currency.
It's becoming more and more difficult to cut through the noise of content overload, especially in the face of "junk food" content that's super-sticky and native to every platform. What can businesses and brands do? They can now find those content providers who are dominating in a subculture and providing a readily identifiable, an often passionate, market. The kind of market research that companies traditionally pay thousands for may now be ready-made. That means markets and startups and businesses in general should be creating ways of reaching that target group and collaborating with those content providers.
The article is worth a read, despite its click-bait title.
Our show today is brought to you in part by Hootsuite.
Manage all your social networks in one place — whether you're doing it as an individual or as a team — and schedule your posts, track critical metrics, and gain access to big-business tools… all on a small business budget!
Click here to check out Hootsuite today, and give Hootsuite Pro a spin absolutely free for 30 days.
A story in Small Business Trends makes a remarkable claim, that nearly 50% of all small businesses will have a mobile app by 2017. Based on a 2016 survey conducted by Clutch, the story asks an important question: should you build a mobile app for your business?
If not, how are you addressing the rapidly snowballing problem of serving the needs of mobile users?
Facebook is now generating 82% of their ad revenue from mobile advertising, according their first quarter results. With 1.65 Billion monthly active users, the company has experienced a 57 percent jump in revenue in the first quarter, with $5.2 billion.
Josh mentioned LevelUp as a possible solution for retail businesses to develop a loyalty/rewards program with mobile apps.
Need to Increase Your Response?
Whether you're creating a Facebook Ad, sending emails to your past clients, writing a blog post, or even publishing a YouTube video, this free report will show you how to get better results from your efforts… just by changing the words you use!
Download your free copy of 5 Ways to Increase Your Response today!
Tools of the Week
David used the WordPress plugin from Beacon to create the 5 Ways to Increase Your Response free report.
This is a fantastic tool that allows you to assemble a PDF—complete with professional design, stock images, and a nice cover page—by selecting from your previously published blog posts. There's a nice editor which allows you to choose a theme, make some tweaks, and finalize your PDF. In addition to WordPress, Beacon also works with HubSpot and a few other systems.
Josh mentioned a new tool to measure the performance of your content: PostReach.co is currently free, and will discover and show important metrics about how your content is being shared online.
Video
Video for this episode is coming soon! Watch this space for updates!